shipping costs
During checkout you will be displayed various methods of shipping with different services and different prices. Should you wish shipping of extreme heavy or bulky items, please contact us. We'll find an advantageous solution for you.
ATTENTION!!! Methods of shipping shown with a price of 0.00 are not feasible with the products in your shopping cart (with the exception of "collection by customer" of course).
Please do not select one of these methods of shipping. If you select one of these methods of shipping by mistake, we will debit the shipping costs afterwards.
Shipping costs will be calculated and displayed during checkout. If you don't agree to the shipping costs you can abort the order before final check-out. Because of the variety regarding property and weight, program calculated shipping costs can only be an estimate, though we make every effort to be as precise as possible. If the actual shipping costs are higher than the program calculated ones, we'll inform you by email and you'll have the possibility to withdraw from the order within a reasonable period.
A rough overview of our shipping costs (incl. 19% VAT) is shown in the tables below (click on the appropriate ensign above to get to your country quickly), although these can differ from the actual shipping costs, depending on the part of the country you want us to ship the goods to. Generally shipping costs shown for non-EU countries do not include VAT. Filing customs documents for shipments into third party countries is included in our shipping costs as long as the merchandise value is below 1,000 €.
Remote areas (like islands, difficult to access, etc.) may be subject to additional charges or may even be excluded from some services. Prices for shipping to these areas can vary from the prices shown in the tables below. Please ask for these special prices.
Scheduled transit times indicated in the tables below are without obligation. They are shown in working days to the capital of the respective country, based on experienced data. Transit times to economic centres may be shorter, transit times to certain areas of the receiving country may be longer.
Our logistic partners are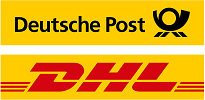 as well as local and supra-local forwarding agencies.
Basics about the calculation of our shipping costs:
Shipping costs depend on the weight of the goods. The weight is not only a matter of the actual weight, but also of the volumetric weight. Volumetric weight is based on the dimensions of the packed goods and is calculated as follows:
length (cm) x width (cm) x height (cm) / 5000 = volumetric kgs
The upper value (actual vs. volumetric weight) is used to calculate shipping costs.
Example: A parcel weighs 5 kgs. The dimensions of this parcel are 40 cm x 30 cm x 25 cm. The volumetric weight is 6 kgs (40 x 30 x 25 / 5,000 = 6). 6 kgs would be used to calculate shipping costs.
up


Austria

up to kgs

1

2

5

10

20

30

40

70

100

UPS Standard *1)

13.80 €

14.40 €

17.10 €

23.00 €

31.00 €

49.00 €

123.00 €

UPS Express Saver *2)

33.00 €

37.00 €

50.00 €

75.00 €

117.00 €

184.00 €

215.00 €

400.00 €

UPS Express *3)

35.00 €

40.00 €

53.00 €

80.00 €

125.00 €

198.00 €

229.00 €

426.00 €

UPS Saturday *4)

108.00 €

113.00 €

127.00 €

153.00 €

199.00 €

271.00 €

303.00 €

500.00 €

DHL Standard *5)

14.10 €

15.00 €

18.50 €

25.00 €

37.00 €

54.00 €

DHL Express *6)

49.00 €

60.00 €

93.00 €

124.00 €

171.00 €

221.00 €

271.00 €

431.00 €

553.00 €

DHL Express prior 12:00 *7)

83.00 €

94.00 €

127.00 €

158.00 €

204.00 €

254.00 €

304.00 €

464.00 €

586.00 €

DHL Express prior 9:00 *8)

116.00 €

127.00 €

160.00 €

192.00 €

238.00 €

288.00 €

DHL Saturday *9)

97.00 €

108.00 €

141.00 €

172.00 €

218.00 €

268.00 €
Scheduled transit times:
*1)
2 working days
*2)
1 working day
*3)
next working day until 12:00 am (only available in certain areas)
*4)
Saturday until 12:00 am (only available in certain areas)
*5)
2 working days
*6)
1 working day
*7)
next working day until 12:00 am (only available in certain areas)
*8)
next working day until 9:00 am (only available in certain areas)
*9)
delivery Saturday
up


Belgium

up to kgs

1

2

5

10

20

30

40

70

100

UPS Standard *1)

9.40 €

10.00 €

12.70 €

18.20 €

26.00 €

44.00 €

93.00 €

UPS Express Saver *2)

26.00 €

28.00 €

34.00 €

47.00 €

75.00 €

98.00 €

146.00 €

263.00 €

UPS Express *3)

28.00 €

30.00 €

36.00 €

50.00 €

80.00 €

105.00 €

154.00 €

281.00 €

UPS Saturday *4)

101.00 €

103.00 €

109.00 €

122.00 €

153.00 €

177.00 €

227.00 €

353.00 €

DHL Standard *5)

14.10 €

15.00 €

18.50 €

25.00 €

37.00 €

52.00 €

DHL Express *6)

49.00 €

60.00 €

93.00 €

124.00 €

171.00 €

221.00 €

271.00 €

431.00 €

553.00 €

DHL Express prior 12:00 *7)

83.00 €

94.00 €

127.00 €

158.00 €

204.00 €

254.00 €

304.00 €

464.00 €

586.00 €

DHL Express prior 9:00 *8)

116.00 €

127.00 €

160.00 €

192.00 €

238.00 €

288.00 €

DHL Saturday *9)

97.00 €

108.00 €

141.00 €

172.00 €

218.00 €

268.00 €
Scheduled transit times:
*1)
2 working days
*2)
1 working day
*3)
next working day until 10:30 am (only available in certain areas)
*4)
Saturday until 12:00 am (only available in certain areas)
*5)
2 working days
*6)
1 working day
*7)
next working day until 12:00 am (only available in certain areas)
*8)
next working day until 9:00 am (only available in certain areas)
*9)
delivery Saturday
up


Canada

up to kgs

1

2

5

10

20

30

40

70

100

UPS Express Saver *1)

36.00 €

41.00 €

55.00 €

75.00 €

120.00 €

154.00 €

218.00 €

406.00 €

UPS Express *2)

38.00 €

43.00 €

58.00 €

80.00 €

128.00 €

164.00 €

230.00 €

431.00 €

UPS Expedited *3)

68.00 €

78.00 €

107.00 €

134.00 €

180.00 €

225.00 €

261.00 €

326.00 €

DHL Standard *4)

28.00 €

31.00 €

39.00 €

51.00 €

81.00 €

111.00 €

DHL Express *5)

69.00 €

79.00 €

109.00 €

161.00 €

218.00 €

277.00 €

337.00 €

536.00 €

697.00 €

DHL Express prior 12:00 *6)

100.00 €

110.00 €

140.00 €

192.00 €

249.00 €

308.00 €

368.00 €

567.00 €

728.00 €

DHL Express prior 9:00 *7)

113.00 €

123.00 €

153.00 €

205.00 €

262.00 €
Scheduled transit times:
*1)
2 working days
*2)
1 working day until 10:30 or 12:00 am to most business addresses
2 working days until 10:30 or 12:00 am to all other addresses
*3)
4 working days
*4)
10-12 working days
*5)
2 working days
*6)
2 working days until 12:00 am
*7)
2 working days until 10:30 am
up


Czech Republic

up to kgs

1

2

5

10

20

30

40

70

100

UPS Standard *1)

9.40 €

10.00 €

12.70 €

18.20 €

26.00 €

32.00 €

82.00 €

UPS Express Saver *2)

39.00 €

44.00 €

62.00 €

93.00 €

155.00 €

192.00 €

254.00 €

474.00 €

UPS Express *3)

41.00 €

47.00 €

66.00 €

99.00 €

165.00 €

204.00 €

270.00 €

505.00 €

DHL Standard *4)

14.10 €

15.00 €

18.50 €

25.00 €

37.00 €

52.00 €

DHL Express *5)

49.00 €

60.00 €

93.00 €

124.00 €

171.00 €

221.00 €

271.00 €

431.00 €

553.00 €

DHL Express prior 12:00 *6)

83.00 €

94.00 €

127.00 €

158.00 €

204.00 €

254.00 €

304.00 €

464.00 €

586.00 €

DHL Saturday *7)

97.00 €

108.00 €

141.00 €

172.00 €

218.00 €

268.00 €
Scheduled transit times:
*1)
2 working days
*2)
1 working day
*3)
next working day until 12:00 am (only available in certain areas)
*4)
3 working days
*5)
1 working day
*6)
next working day until 12:00 am (only available in certain areas)
*7)
delivery Saturday
up


Denmark

up to kgs

1

2

5

10

20

30

40

70

100

UPS Standard *1)

9.40 €

10.00 €

12.70 €

18.20 €

26.00 €

44.00 €

93.00 €

UPS Express Saver *2)

26.00 €

28.00 €

34.00 €

47.00 €

75.00 €

98.00 €

146.00 €

263.00 €

UPS Express *3)

28.00 €

30.00 €

36.00 €

50.00 €

80.00 €

105.00 €

154.00 €

281.00 €

UPS Saturday *4)

101.00 €

103.00 €

109.00 €

122.00 €

153.00 €

177.00 €

227.00 €

353.00 €

DHL Standard *5)

14.10 €

15.00 €

18,50 €

25.00 €

37.00 €

52.00 €

DHL Express *6)

49.00 €

60.00 €

93.00 €

124.00 €

171.00 €

221.00 €

271.00 €

431.00 €

553.00 €

DHL Express prior 12:00 *7)

83.00 €

94.00 €

127.00 €

158.00 €

204.00 €

254.00 €

304.00 €

464.00 €

586.00 €

DHL Express prior 9:00 *8)

116.00 €

127.00 €

160.00 €

192.00 €

238.00 €

288.00 €

DHL Saturday *9)

97.00 €

108.00 €

141.00 €

172.00 €

218.00 €

268.00 €
Scheduled transit times:
*1)
2 working days
*2)
1 working day
*3)
next working day until 10:30 am (only available in certain areas)
*4)
Saturday until 12:00 am (only available in certain areas)
*5)
2 working days
*6)
1 working day
*7)
next working day until 12:00 am (only available in certain areas)
*8)
next working day until 9:00 am (only available in certain areas)
*9)
delivery Saturday
up


Finland

up to kgs

1

2

5

10

20

30

40

70

100

UPS Standard *1)

13.80 €

14.40 €

17.10 €

23.00 €

31.00 €

49.00 €

123.00 €

UPS Express Saver *2)

33.00 €

37.00 €

50.00 €

75.00 €

117.00 €

184.00 €

215.00 €

400.00 €

UPS Express *3)

35.00 €

40.00 €

53.00 €

80.00 €

125.00 €

198.00 €

229.00 €

426.00 €

DHL Standard *4)

14.60 €

15.70 €

19.90 €

28.00 €

42.00 €

60.00 €

DHL Express *5)

49.00 €

60.00 €

93.00 €

124.00 €

171.00 €

221.00 €

271.00 €

431.00 €

553.00 €

DHL Express prior 12:00 *6)

83.00 €

94.00 €

127.00 €

158.00 €

204.00 €

254.00 €

304.00 €

464.00 €

586.00 €

DHL Saturday *7)

97.00 €

108.00 €

141.00 €

172.00 €

218.00 €

268.00 €
Scheduled transit times:
*1)
3 working days
*2)
1 working day
*3)
next working day until 12:00 am (only available in certain areas)
*4)
6 working days
*5)
1 working day
*6)
next working day until 12:00 am (only available in certain areas)
*7)
delivery Saturday
up


France

up to kgs

1

2

5

10

20

30

40

70

100

UPS Standard *1)

13.80 €

14.40 €

17.10 €

23.00 €

31.00 €

49.00 €

123.00 €

UPS Express Saver *2)

31.00 €

35.00 €

46.00 €

68.00 €

106.00 €

166.00 €

193.00 €

345.00 €

UPS Express *3)

33.00 €

37.00 €

49.00 €

73.00 €

113.00 €

178.00 €

206.00 €

369.00 €

UPS Saturday *4)

107.00 €

111.00 €

123.00 €

147.00 €

187.00 €

252.00 €

280.00 €

443.00 €

DHL Standard *5)

14.10 €

15.00 €

18.50 €

25.00 €

37.00 €

54.00 €

DHL Express *6)

49.00 €

60.00 €

93.00 €

124.00 €

171.00 €

221.00 €

271.00 €

431.00 €

553.00 €

DHL Express prior 12:00 *7)

83.00 €

94.00 €

127.00 €

158.00 €

204.00 €

254.00 €

304.00 €

464.00 €

586.00 €

DHL Express prior 9:00 *8)

116.00 €

127.00 €

160.00 €

192.00 €

238.00 €

288.00 €

DHL Saturday *9)

97.00 €

108.00 €

141.00 €

172.00 €

218.00 €

268.00 €
Scheduled transit times:
*1)
2 working days
*2)
1 working day
*3)
next working day until 12:00 am (only available in certain areas)
*4)
Saturday until 12:00 am (only available in certain areas)
*5)
2 working days
*6)
1 working day
*7)
next working day until 12:00 am (only available in certain areas)
*8)
next working day until 9:00 am (only available in certain areas)
*9)
delivery Saturday
up


Germany

up to kgs

1

2

5

10

20

31.5

40

70

100

UPS Standard *1)

7.10 €

7.70 €

9.60 €

12.20 €

18.30 €

38.00 €

49.00 €

UPS Express Saver *2)

15.00 €

15.60 €

17.40 €

19.70 €

26.00 €

43.00 €

49.00 €

UPS Express *3)

16.90 €

17.50 €

19.30 €

22.00 €

28.00 €

45.00 €

51.00 €

UPS Saturday *4)

39.00 €

40.00 €

42.00 €

44.00 €

50.00 €

67.00 €

73.00 €

DHL Standard *5)

6.30 €

6.80 €

8.40 €

11.00 €

16.20 €

23.00 €

DHL Express *6)

17.20 €

18.00 €

21.00 €

27.00 €

39.00 €

54.00 €

70.00 €

130.00 €

187.00 €

DHL Express prior 12:00 *7)

18.40 €

19.20 €

22.00 €

29.00 €

40.00 €

55.00 €

71.00 €

131.00 €

188.00 €

DHL Express prior 10:00 *8)

29.00 €

30.00 €

33.00 €

39.00 €

51.00 €

66.00 €

81.00 €

142.00 €

199.00 €

DHL Express prior 9:00 *9)

39.00 €

42.00 €

49.00 €

60.00 €

76.00 €

DHL Saturday *10)

29.00 €

30.00 €

33.00 €

39.00 €

51.00 €

66.00 €

81.00 €

142.00 €

199.00 €

DHL Sun-/Holiday *11)

59.00 €

60.00 €

63.00 €

69.00 €

81.00 €

96.00 €

111.00 €

172.00 €

229.00 €
Scheduled transit times:
*1)
1 working day, 2 working days for postal codes: 01000 - 19499, 21300 - 21409, 23500 - 24999, 25600 - 25999,
29370 - 29649, 39000 - 39699, 78200 - 78499, 82100 - 83799, 84110 - 84599, 86000 - 86709, 86800 - 89699, 94000 - 94599
*2)
next working day until 12:00 am
*3)
next working day until 10:30 am
*4)
Saturday until 12:00 am
*5)
1 working day
*6)
next working day guaranteed
*7)
next working day until 12:00 am (not for German islands)
*8)
next working day until 10:00 am (not for German islands)
*9)
next working day until 9:00 am (not for German islands)
*10)
delivery Saturday
*11)
delivery Sun-/Holidays generally until 2:00 pm
up


Great Britain

up to kgs

1

2

5

10

20

30

40

70

100

UPS Standard *1)

13.80 €

14.40 €

17.10 €

23.00 €

31.00 €

49.00 €

141.00 €

UPS Express Saver *2)

31.00 €

35.00 €

46.00 €

68.00 €

106.00 €

135.00 €

193.00 €

402.00 €

UPS Express *3)

33.00 €

37.00 €

49.00 €

73.00 €

113.00 €

144.00 €

206.00 €

430.00 €

UPS Saturday *4)

107.00 €

111.00 €

123.00 €

147.00 €

187.00 €

217.00 €

280.00 €

517.00 €

DHL Standard *5)

14.30 €

15.40 €

19.20 €

26.00 €

39.00 €

56.00 €

DHL Express *6)

49.00 €

60.00 €

93.00 €

124.00 €

171.00 €

221.00 €

271.00 €

431.00 €

553.00 €

DHL Express prior 12:00 *7)

83.00 €

94.00 €

127.00 €

158.00 €

204.00 €

254.00 €

304.00 €

464.00 €

586.00 €

DHL Express prior 9:00 *8)

116.00 €

127.00 €

160.00 €

192.00 €

238.00 €

288.00 €

DHL Saturday *9)

97.00 €

108.00 €

141.00 €

172.00 €

218.00 €

268.00 €
Scheduled transit times:
*1)
2 working days
*2)
1 working day
*3)
next working day until 12:00 am (only available in certain areas)
*4)
Saturday until 12:00 am (only available in certain areas)
*5)
2 working days
*6)
1 working day
*7)
next working day until 12:00 am (only available in certain areas)
*8)
next working day until 9:00 am (only available in certain areas)
*9)
delivery Saturday
up


Ireland

up to kgs

1

2

5

10

20

30

40

70

100

UPS Standard *1)

13.80 €

14.40 €

17.10 €

23.00 €

31.00 €

49.00 €

141.00 €

UPS Express Saver *2)

31.00 €

35.00 €

46.00 €

68.00 €

106.00 €

135.00 €

193.00 €

402.00 €

UPS Express *3)

33.00 €

37.00 €

49.00 €

73.00 €

113.00 €

144.00 €

206.00 €

430.00 €

UPS Saturday *4)

107.00 €

111.00 €

123.00 €

147.00 €

187.00 €

217.00 €

280.00 €

517.00 €

DHL Standard *5)

14.30 €

15.40 €

19.20 €

26.00 €

39.00 €

56.00 €

DHL Express *6)

49.00 €

60.00 €

93.00 €

124.00 €

171.00 €

221.00 €

271.00 €

431.00 €

553.00 €

DHL Express prior 12:00 *7)

83.00 €

94.00 €

127.00 €

158.00 €

204.00 €

254.00 €

304.00 €

464.00 €

586.00 €

DHL Express prior 9:00 *8)

116.00 €

127.00 €

160.00 €

192.00 €

238.00 €

288.00 €

DHL Saturday *9)

97.00 €

108.00 €

141.00 €

172.00 €

218.00 €

268.00 €
Scheduled transit times:
*1)
4 working days
*2)
1 working day
*3)
next working day until 10:30 am (only available in certain areas)
*4)
Saturday until 3:00 pm (only available in certain areas)
*5)
8 working days
*6)
1 working day
*7)
next working day until 12:00 am (only available in certain areas)
*8)
next working day until 9:00 am (only available in certain areas)
*9)
delivery Saturday
up


Italy

up to kgs

1

2

5

10

20

30

40

70

100

UPS Standard *1)

16.40 €

17.00 €

21.00 €

29.00 €

37.00 €

54.00 €

138.00 €

UPS Express Saver *2)

31.00 €

35.00 €

45.00 €

68.00 €

105.00 €

135.00 €

191.00 €

341.00 €

UPS Express *3)

33.00 €

37.00 €

49.00 €

72.00 €

112.00 €

144.00 €

204.00 €

366.00 €

UPS Saturday *4)

105.00 €

110.00 €

121.00 €

145.00 €

185.00 €

217.00 €

277.00 €

438.00 €

DHL Standard *5)

14.30 €

15.40 €

19.20 €

26.00 €

38.00 €

56.00 €

DHL Express *6)

49.00 €

60.00 €

93.00 €

124.00 €

171.00 €

221.00 €

271.00 €

431.00 €

553.00 €

DHL Saturday *7)

97.00 €

108.00 €

141.00 €

172.00 €

218.00 €

268.00 €
Scheduled transit times:
*1)
2 working days
*2)
1 working day
*3)
next working day until 12:00 am (only available in certain areas)
*4)
Saturday until 1:00 pm (only available in certain areas)
*5)
3 working days
*6)
1 working day
*7)
delivery Saturday
up


Luxembourg

up to kgs

1

2

5

10

20

30

40

70

100

UPS Standard *1)

9.40 €

10.00 €

12.70 €

18.20 €

26.00 €

44.00 €

93.00 €

UPS Express Saver *2)

26.00 €

28.00 €

34.00 €

47.00 €

75.00 €

98.00 €

146.00 €

263.00 €

UPS Express *3)

28.00 €

30.00 €

36.00 €

50.00 €

80.00 €

105.00 €

154.00 €

281.00 €

UPS Saturday *4)

101.00 €

103.00 €

109.00 €

122.00 €

153.00 €

177.00 €

227.00 €

353.00 €

DHL Standard *5)

14.10 €

15.00 €

18.50 €

25.00 €

37.00 €

52.00 €

DHL Express *6)

49.00 €

60.00 €

93.00 €

124.00 €

171.00 €

221.00 €

271.00 €

431.00 €

553.00 €

DHL Saturday *7)

97.00 €

108.00 €

141.00 €

172.00 €

218.00 €

268.00 €
Scheduled transit times:
*1)
2 working days
*2)
1 working day
*3)
next working day until 12:00 am (only available in certain areas)
*4)
Saturday until 12:00 am (only available in certain areas)
*5)
2-3 working days
*6)
1 working day
*7)
delivery Saturday
up


Netherlands

up to kgs

1

2

5

10

20

30

40

70

100

UPS Standard *1)

9.40 €

10.00 €

12.70 €

18.20 €

26.00 €

44.00 €

93.00 €

UPS Express Saver *2)

26.00 €

28.00 €

34.00 €

47.00 €

75.00 €

98.00 €

146.00 €

263.00 €

UPS Express *3)

28.00 €

30.00 €

36.00 €

50.00 €

80.00 €

105.00 €

154.00 €

281.00 €

UPS Saturday *4)

101.00 €

103.00 €

109.00 €

122.00 €

153.00 €

177.00 €

227.00 €

353.00 €

DHL Standard *5)

14.10 €

15.00 €

18.50 €

25.00 €

37.00 €

52.00 €

DHL Express *6)

49.00 €

60.00 €

93.00 €

124.00 €

171.00 €

221.00 €

271.00 €

431.00 €

553.00 €

DHL Express prior 12:00 *7)

83.00 €

94.00 €

127.00 €

158.00 €

204.00 €

254.00 €

304.00 €

464.00 €

586.00 €

DHL Express prior 9:00 *8)

116.00 €

127.00 €

160.00 €

192.00 €

238.00 €

288.00 €

DHL Saturday *9)

97.00 €

108.00 €

141.00 €

172.00 €

218.00 €

268.00 €
Scheduled transit times:
*1)
2 working days
*2)
1 working day
*3)
next working day until 10:30 am (only available in certain areas)
*4)
Saturday until 12:00 am (only available in certain areas)
*5)
2-3 working days
*6)
1 working day
*7)
next working day until 12:00 am (only available in certain areas)
*8)
next working day until 9:00 am (only available in certain areas)
*9)
delivery Saturday
up


Norway

up to kgs

1

2

5

10

20

30

40

70

100

UPS Standard *1)

22.00 €

23.00 €

25.00 €

27.00 €

32.00 €

174.00 €

249.00 €

UPS Express Saver *2)

30.00 €

33.00 €

42.00 €

63.00 €

98.00 €

124.00 €

174.00 €

311.00 €

UPS Express *3)

32.00 €

35.00 €

45.00 €

67.00 €

105.00 €

132.00 €

186.00 €

333.00 €

DHL Standard *4)

13.50 €

14.60 €

18.40 €

26.00 €

39.00 €

57.00 €

DHL Express *5)

69.00 €

79.00 €

109.00 €

161.00 €

218.00 €

277.00 €

337.00 €

536.00 €

697.00 €

DHL Express prior 12:00 *6)

100.00 €

110.00 €

140.00 €

192.00 €

249.00 €

308.00 €

368.00 €

567.00 €

728.00 €

DHL Saturday *7)

113.00 €

123.00 €

153.00 €

205.00 €

262.00 €
Scheduled transit times:
*1)
3 working days
*2)
1 working day
*3)
next working day until 12:00 am (only available in certain areas)
*4)
7-8 working days
*5)
1 working day
*6)
next working day until 12:00 am
*7)
delivery Saturday
up


Poland

up to kgs

1

2

5

10

20

30

40

70

100

UPS Standard *1)

10.50 €

11.10 €

13.70 €

19.40 €

26.00 €

47.00 €

107.00 €

UPS Express Saver *2)

39.00 €

44.00 €

62.00 €

93.00 €

155.00 €

192.00 €

265.00 €

485.00 €

UPS Express *3)

41.00 €

47.00 €

66.00 €

99.00 €

165.00 €

204.00 €

281.00 €

516.00 €

DHL Standard *4)

14.10 €

15.00 €

18.50 €

25.00 €

37.00 €

52.00 €

DHL Express *5)

49.00 €

60.00 €

93.00 €

124.00 €

171.00 €

221.00 €

271.00 €

431.00 €

553.00 €

DHL Express prior 12:00 *6)

83.00 €

94.00 €

127.00 €

158.00 €

204.00 €

254.00 €

304.00 €

464.00 €

586.00 €

DHL Express prior 9:00 *7)

116.00 €

127.00 €

160.00 €

192.00 €

238.00 €

288.00 €

DHL Saturday *8)

97.00 €

108.00 €

141.00 €

172.00 €

218.00 €

268.00 €
Scheduled transit times:
*1)
3 working days
*2)
1 working day
*3)
next working day until 10:30 am (only available in certain areas)
*4)
3 working days
*5)
1 working day
*6)
next working day until 12:00 am (only available in certain areas)
*7)
next working day until 9:00 am (only available in certain areas)
*8)
delivery Saturday
up


Spain

up to kgs

1

2

5

10

20

30

40

70

100

UPS Standard *1)

16.40 €

17.00 €

21.00 €

29.00 €

37.00 €

54.00 €

138.00 €

UPS Express Saver *2)

32.00 €

37.00 €

49.00 €

74.00 €

116.00 €

150.00 €

213.00 €

396.00 €

UPS Express *3)

35.00 €

39.00 €

53.00 €

79.00 €

124.00 €

161.00 €

227.00 €

422.00 €

UPS Saturday *4)

107.00 €

112.00 €

126.00 €

151.00 €

197.00 €

233.00 €

300.00 €

495.00 €

DHL Standard *5)

14.30 €

15.40 €

19.20 €

26.00 €

38.00 €

56.00 €

DHL Express *6)

49.00 €

60.00 €

93.00 €

124.00 €

171.00 €

221.00 €

271.00 €

431.00 €

553.00 €

DHL Saturday *7)

97.00 €

108.00 €

141.00 €

172.00 €

218.00 €

268.00 €
Scheduled transit times:
*1)
3 working days
*2)
1 working day
*3)
next working day until 12:00 am (only available in certain areas)
*4)
Saturday until 1:00 pm (only available in certain areas)
*5)
7 working days
*6)
1 working day
*7)
delivery Saturday
up


Sweden

up to kgs

1

2

5

10

20

30

40

70

100

UPS Standard *1)

13.80 €

14.40 €

17.10 €

23.00 €

31.00 €

49.00 €

123.00 €

UPS Express Saver *2)

33.00 €

37.00 €

50.00 €

75.00 €

117.00 €

184.00 €

215.00 €

400.00 €

UPS Express *3)

35.00 €

40.00 €

53.00 €

80.00 €

125.00 €

198.00 €

229.00 €

426.00 €

DHL Standard *4)

14.30 €

15.40 €

19.20 €

26.00 €

39.00 €

56.00 €

DHL Express *5)

49.00 €

60.00 €

93.00 €

124.00 €

171.00 €

221.00 €

271.00 €

431.00 €

553.00 €

DHL Express prior 12:00 *6)

83.00 €

94.00 €

127.00 €

158.00 €

204.00 €

254.00 €

304.00 €

464.00 €

586.00 €

DHL Express prior 9:00 *7)

116.00 €

127.00 €

160.00 €

192.00 €

238.00 €

288.00 €

DHL Saturday *8)

97.00 €

108.00 €

141.00 €

172.00 €

218.00 €

268.00 €
Scheduled transit times:
*1)
2 working days
*2)
1 working day
*3)
next working day until 12:00 am (only available in certain areas)
*4)
4 working days
*5)
1 working day
*6)
next working day until 12:00 am (only available in certain areas)
*7)
next working day until 9:00 am (only available in certain areas)
*8)
delivery Saturday
up


Switzerland

up to kgs

1

2

5

10

20

30

40

70

100

UPS Standard *1)

22.00 €

23.00 €

25.00 €

27.00 €

32.00 €

174.00 €

249.00 €

UPS Express Saver *2)

30.00 €

33.00 €

42.00 €

63.00 €

98.00 €

124.00 €

174.00 €

311.00 €

UPS Express *3)

32.00 €

35.00 €

45.00 €

67.00 €

105.00 €

132.00 €

186.00 €

333.00 €

DHL Standard *4)

13.00 €

13.90 €

17.10 €

23.00 €

34.00 €

50.00 €

DHL Express *5)

69.00 €

79.00 €

109.00 €

161.00 €

218.00 €

277.00 €

337.00 €

536.00 €

697.00 €

DHL Express prior 12:00 *6)

100.00 €

110.00 €

140.00 €

192.00 €

249.00 €

308.00 €

368.00 €

567.00 €

728.00 €

DHL Saturday *7)

113.00 €

123.00 €

153.00 €

205.00 €

262.00 €
Scheduled transit times:
*1)
3 working days
*2)
1 working day
*3)
next working day until 10:30 am (only available in certain areas)
*4)
4 working days
*5)
1 working day
*6)
next working day until 12:00 am
*7)
delivery Saturday
up


USA

up to kgs

1

2

5

10

20

30

40

70

100

UPS Express Saver *1)

36.00 €

41.00 €

55.00 €

75.00 €

120.00 €

154.00 €

218.00 €

406.00 €

UPS Express *2)

38.00 €

43.00 €

58.00 €

80.00 €

128.00 €

164.00 €

230.00 €

431.00 €

UPS Expedited *3)

68.00 €

78.00 €

107.00 €

134.00 €

180.00 €

225.00 €

261.00 €

326.00 €

DHL Standard *4)

28.00 €

31.00 €

39.00 €

51.00 €

81.00 €

111.00 €

DHL Express *5)

69.00 €

79.00 €

109.00 €

161.00 €

218.00 €

277.00 €

337.00 €

536.00 €

697.00 €

DHL Express prior 12:00 *6)

100.00 €

110.00 €

140.00 €

192.00 €

249.00 €

308.00 €

368.00 €

567.00 €

728.00 €

DHL Express prior 9:00 *7)

113.00 €

123.00 €

153.00 €

205.00 €

262.00 €
Scheduled transit times:
*1)
2 working days
*2)
1 working day until 10:30 or 12:00 am to most business addresses
2 working days until 10:30 or 12:00 am to all other addresses
*3)
4 working days
*4)
10-12 working days
*5)
2 working days
*6)
2 working days until 12:00 am
*7)
2 working days until 10:30 am